Preliminary F2Q21 Results, But Over a Range
---
Please log in to download the full report
Key Statistics
| | |
| --- | --- |
| Price | $13.54 |
| 52 Week Range | $6.05-$13.58 |
| Avg. Daily Vol. (30 day) | 14,665,338.0 |
| Shares Out (MM) | 129.87924 |
| Market Cap (MM) | $1,758.56 |
| Enterprise Value ($MM) | 1,983.2375 |
| Annual Dividend/Yield | 0.0 |
| Fiscal Year End | June |
Source: FactSet, *As of December 06, 2021

KEY POINTS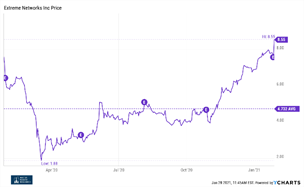 OUR INSIGHTS
The company looks to be making progress on sales growth as the new head of sales is now fully engaged and the company is expecting sequential revenue growth rather than the normal seasonal decline.
The 5G opportunity for Extreme is $50 million to $100 million in annual sales for up to 15 years, according to the company. The company already has one 5G product in the field, and a second one being designed into a 5G system. They expect to see growth begin to ramp in 2HF21. Management also cited their cloud management from end-to-end as a major differentiator for them, particularly for enterprises.
The company guided to F3Q21 revenue of $240 million to $250 million, which they said was better than normal seasonality, and it is above previous consensus of $233 million. The company expects non-GAAP EPS in the range of $0.11 to $0.16, 80% above previous consensus of $0.075 at the midpoint.
Extreme described its quarter as "very solid," with revenue at the mid-point of $243 million, which was above the mid-point of guidance of $240 million and consensus at $241 million. Mid-point non-GAAP EPS was $0.14 also above consensus of $0.11. Non-GAAP gross margin came in above 60% with a range of 60.7% to 62.1%, with a midpoint of 61.4%.
DISCLOSURES
Water Tower Research ("WTR") is a professional publisher of investment research reports on public companies and, to a lesser extent, private firms ("the Companies"). WTR provides investor-focused content and digital distribution strategies designed to help companies communicate with investors.

WTR is not a registered investment adviser or a broker/dealer nor does WTR provide investment banking services. WTR operates as an exempt investment adviser under the so called "publishers' exemption" from the definition of investment adviser under Section 202(a)(11) of the Investment Advisers Act of 1940. WTR does not provide investment ratings / recommendations or price targets on the companies it reports on. Readers are advised that the research reports are published and provided solely for informational purposes and should not be construed as an offer to sell or the solicitation of an offer to buy securities or the rendering of investment advice. The information p...