Mat-Chem Notes for the Week Ended September 18, 2022
---
Please log in to download the full report
KEY HIGHLIGHTS
WTR-CMI WEEKLY PERFORMANCE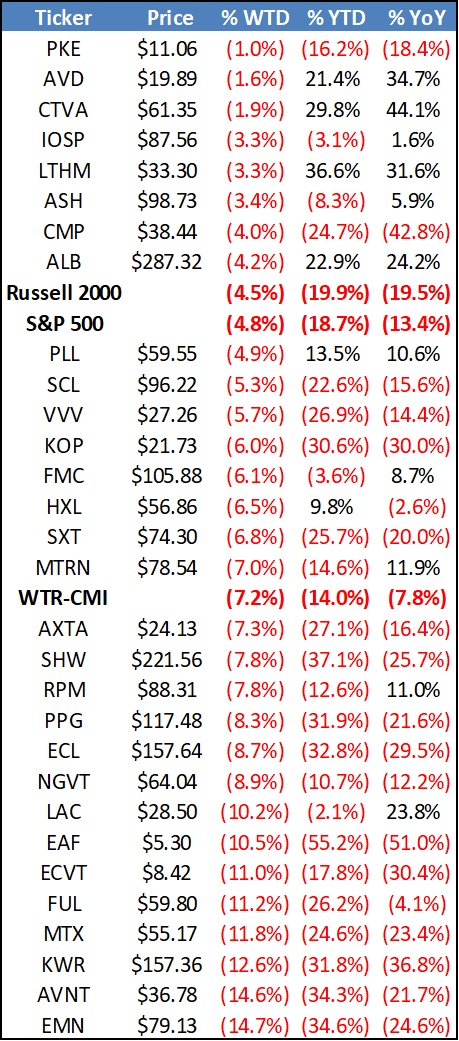 Source: YCharts as of September 17 close
• WTR-CMI last week. Reversing the prior week's trend, the stock market pulled back last week following the release of disappointing inflation data, with the Russell 2000 and the S&P 500 losing 4.5% and 4.8% of their value, respectively. Our WTR-CMI index of 30 chemicals and materials technology stocks underperformed the broader market by declining 7.2% for the week. EMN's preannouncement of lower 3Q22 and 2022 expectations drove the stock down nearly 15% and eight of the 30 stocks in our index posted double-digit declines. With all stocks in our WTR-CMI index losing value last week, PKE, AVD, and CTVA delivered relative outperformance by declining less than 2%.
DISCLOSURES
Water Tower Research ("WTR") is a professional publisher of investment research reports on public companies and, to a lesser extent, private firms ("the Companies"). WTR provides investor-focused content and digital distribution strategies designed to help companies communicate with investors.

WTR is not a registered investment adviser or a broker/dealer nor does WTR provide investment banking services. WTR operates as an exempt investment adviser under the so called "publishers' exemption" from the definition of investment adviser under Section 202(a)(11) of the Investment Advisers Act of 1940. WTR does not provide investment ratings / recommendations or price targets on the companies it reports on. Readers are advised that the research reports are published and provided solely for informational purposes and should not be construed as an offer to sell or the solicitation of an offer to buy securities or the rendering of investment advice. The information p...