Fireside Chat: Vasa Dasan, Chief Operating Officer May 19, 2022, at 1:00 pm EDT
---
Please log in to download the full report
Key Statistics
| | |
| --- | --- |
| Price | $0.14 |
| 52 Week Range | $0.14-$0.61 |
| Avg. Daily Vol. (30 day) | 38,788 |
| Shares Out (MM) | 117 |
| Market Cap (MM) | $17 |
| Revenue TTM (MM) | $1 |
| Fiscal Year End | December |
Source: YCharts, May 13, 2022

EVENT DETAILS
Please join us for a conversation with Vasa Dasan, Chief Operating Officer of ProStar Holdings, on May 19, 2022, at 1:00 pm EDT. Topics will include the following:
How Vasa Dasan completely rebuilt ProStar software (i.e., rewrote every line of code) to migrate to Amazon Web Services (AWS). Prior to AWS, ProStar had the functionality, but was not a globally scalable product such that 70%+ margins were a possibility.
How ProStar can settle in any currency, respect data sovereignty of any country, communicate in any language, and can integrate with virtually any BIM software the industry uses.
Learn about Vasa's latest challenge: the ProStar app store on its own website—this store will preserve gross margins as ProStar scales.
Hear how Vasa's long experience in Silicon Valley and his incredible Rolodex is driving ProStar to the next level.
Water Tower Research is a shareholder communication and engagement platform powered by senior industry experts with significant Wall Street experience. We create, deliver, and maintain the information flow required to build and preserve relationships with every stakeholder and potential investor. Our foundation is built on Wall Street veterans using open digital distribution strategies that are accessible by everyone. "Research for the Other 99%™" opens the door to reach a much broader and diverse set of investors while helping to strengthen overall communications, transparency, and engagement.
THE COMPANY
ProStar specializes in the development of patented mapping software. ProStar's Precision Mapping Solutions are natively cloud and mobile and offered as Software as a Service (SaaS). The company's SaaS provides the ability to capture, record, and display the precise location of critical infrastructure, such as buried utilities and pipelines, which is all accomplished in real time through ProStar's patented geospatial intelligence software.
The company offers three products, PointMan Plus, PointMan Pro, and PointMan Enterprise, all of which are designed to improve the business operations of any industry that requires knowledge of the precise location of sub-surface infrastructure.
ProStar is projecting revenue growth of more than 100% in each of the next three years. With the new PointMan suite of products ready to sell, ProStar is expecting revenue to double to more than $2 million in 2022 and more than $10 million in 2024. The company expects to have positive EBITDA in 2024, with free cash flow also going positive in 2024.
For more information, visit ProStar.
ABOUT THE EXECUTIVES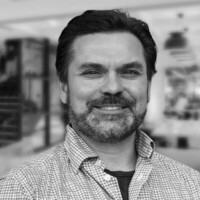 Joel Sutherland
VP Corporate Development & Investor Relations
ProStar Holdings, Inc.
Joel Sutherland CPA CFA has two decades of Wall Street experience, including working at Merrill Lynch as both a Securities Analyst and an Institutional Sales role. Post Bank of America/Merrill Lynch Joel worked for almost 10 years at two Canadian Banks in the Institutional sales role. He graduated from Queen's University with a degree in Economics and went on to pursue his CPA with PricewaterhouseCoopers.
Vasa Dasan
Chief Operating Officer
ProStar Holdings, Inc.
Vasa Dasan is a veteran of driving technical strategy and execution in cloud computing. Vasa joined ProStar from CU Boulder, where he served as head of software development. Prior to that, Vasa was the VP of Engineering at Symplified, a single sign-on startup acquired by RSA a division of EMC-DELL.
Prior to Symplified, Vasa was the first engineering hire at Wayin, a mobile and web engagement platform founded by Scott McNealy. As CTO, Vasa built and led the team that developed Wayin's services for iPhone, iPad and Android devices, social media applications including Facebook and Twitter, and Java backend services operating on Amazon Web Services.
Vasa spent more than 15 years of his career at Sun Microsystems. He served a chief technologist for the company's Cloud Computing Practice, and he spent more than a decade as Distinguished Engineer and CTO for Sun's $5.1 billion SunService division. He joined Sun as a staff engineer for SunSoft and worked on Solaris Operating System.
Before Sun, Vasa held engineering positions at Intergraph and Hewlett Packard. Vasa holds a BS. in Engineering Physics, a MA in Mathematics and Statistics and a MS in Computer Science from Bowling Green State University, and did his Ph.D. work in Computer Science at Colorado State University. Vasa served as adjunct faculty at Computer Science and Engineering Management at the University of Colorado at Boulder.
Vasa has several patents and publications to his credit including the highly referenced US patent 5,761,662 on personalization of Web, and the Prentice Hall book, Hands-on Intranet.
DISCLOSURES
Water Tower Research ("WTR") is a professional publisher of investment research reports on public companies and, to a lesser extent, private firms ("the Companies"). WTR provides investor-focused content and digital distribution strategies designed to help companies communicate with investors.

WTR is not a registered investment adviser or a broker/dealer nor does WTR provide investment banking services. WTR operates as an exempt investment adviser under the so called "publishers' exemption" from the definition of investment adviser under Section 202(a)(11) of the Investment Advisers Act of 1940. WTR does not provide investment ratings / recommendations or price targets on the companies it reports on. Readers are advised that the research reports are published and provided solely for informational purposes and should not be construed as an offer to sell or the solicitation of an offer to buy securities or the rendering of investment advice. The information p...