Fireside Chat Series: Cambium Networks President & CEO Atul Bhatnagar On Thursday, February 25th, 11:30 am EST
---
Please log in to download the full report
Key Statistics
| | |
| --- | --- |
| Price | $40.04 |
| 52 Week Range | $3.57-$39.88 |
| Avg. Daily Vol. (30 day) | 324,323 |
| Shares Out (MM) | 26 |
| Market Cap (MM) | $1,032.00 |
| Institutional Ownership % | 78% |
| Short Int./% of Float | 0.4 / 4.5% |
| Debt to Equity | 112% |
| Revenue TTM (MM) | $260 |
Source: YCharts, *As of February 5, 2021

EVENT DETAILS
We will be hosting Atul Bhatnagar, President & CEO of Cambium Networks in our Water Tower Research Fireside Chat Series on Thursday, February 25th at 11:30 am EST (8:30am PST). The event is open to all investors.
Cambium Networks provides wireless broadband networking infrastructure solutions for network operators, including medium-sized wireless Internet service providers, enterprises, and government agencies. The company's scalable, reliable, and high-performance solutions create a purpose-built wireless fabric that connects people, places, and things across distances ranging from two meters to more than 100 kilometers, indoors and outdoors, using licensed and unlicensed spectrum. Headquartered outside Chicago, and with R&D centers in the US, UK, and India, the company sells through a range of distributors overseas.
You can access our Cambium Networks initiation report and our 60 GHz industry report on our website.
Register For The Event HERE.
At Water Tower Research, we provide "Research for the Other 99%®" on a platform powered by Wall Street veterans that are knowledgeable and experienced to help investors understand key strategies, industries, technologies, and drivers impacting the companies we cover as well as their peers. Water Tower Research uses a broad portfolio of tools to communicate with investors, including a traditional research platform, in addition to innovative and proactive products and digital strategies, providing valuable and consistent information flow.
COMPANY OVERVIEW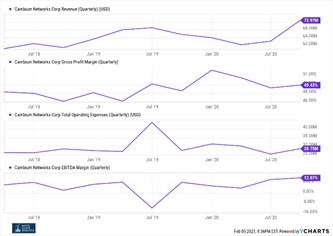 ABOUT THE EXECUTIVE
Atul Bhatnagar
President & Chief Executive Officer
Cambium Networks Corp.
Atul Bhatnagar has served as President and Chief Executive Officer of Cambium Networks since February 2013 and has been on the Board of Directors of Cambium Networks, Ltd., the company through which it conducts business, since September 2014. In connection with the company's IPO, Mr. Bhatnagar was appointed as a member of the Board of Directors in April 2018. Prior to joining Cambium, Mr. Bhatnagar served as the President and Chief Executive Officer of Ixia, a company that provided test and measurement equipment and applications to maintain wireless and wireline computer networks, from March 2008 until May 2012. Mr. Bhatnagar holds a B.S. degree in Electrical Engineering from the Birla Institute of Technology and Sciences and a M.S. in Electrical Engineering from the University of New Mexico, Albuquerque.
DISCLOSURES
Water Tower Research ("WTR") is a professional publisher of investment research reports on public companies and, to a lesser extent, private firms ("the Companies"). WTR provides investor-focused content and digital distribution strategies designed to help companies communicate with investors.

WTR is not a registered investment adviser or a broker/dealer nor does WTR provide investment banking services. WTR operates as an exempt investment adviser under the so called "publishers' exemption" from the definition of investment adviser under Section 202(a)(11) of the Investment Advisers Act of 1940. WTR does not provide investment ratings / recommendations or price targets on the companies it reports on. Readers are advised that the research reports are published and provided solely for informational purposes and should not be construed as an offer to sell or the solicitation of an offer to buy securities or the rendering of investment advice. The information p...