Consumer Hardlines Industry News: September 2021 Mattress Imports; Imports from Targeted AD countries Fall; Imports from some Other Geographies Rise
---
Please log in to download the full report
SUMMARY
This note addresses the September 2021 import data reported on the Department of Commerce, US International Trade Commission dataweb site, https://dataweb.usitc.gov. We track that data for three specific Harmonized Tariff System ten-digit codes (HTS-10) that we believe define adult mattresses. Barring atypical calendar issues, this data is reported ~70 days after the month-end of the month being reported. In addition, we maintain an Excel database that tracks the imports of the referenced 10-digit codes since 2016, when the data for these codes began being reported.
This data set gained importance to investors after a surge of low-cost imported mattresses severely impacted the production and sales volumes of domestic mattress producers and component and fabric suppliers to those domestic mattress producers. That surge of imports catalyzed several USITC/USITA antidumping investigations and determinations.
In the table "US Mattress Imports" we show summary data for September 2021 versus data for September 2020. Note that the USITC periodically restates past data, as it had for 2020. The changes were modest. In previous notes, we have provided detailed historical data for units, customs value, and calculated customs value per imported mattress unit on the following pages. That data is available for readers if they so choose. We will provide our mattress import excel data base by email upon request.
The data show units, customs dollar value, and calculated customs dollar value per imported mattress unit. The top half shows the data for the eight countries subject to the antidumping investigations and resulting tariffs. The bottom shows data for selected geographies and the rest of the world.
The impact of the antidumping duties on y/y imports is evident in the import unit decline in the eight countries that were the target of the antidumping cases, down ~78%. Similarly, y/y customs value declined from ~$74 million to $15.4 million.
There are issues, several discussed below, that conceivably could spark new antidumping investigations. One thoughtful source – musing about mattresses, imports, and lawyers – was heard to quip, "The bedding industry is like the scene from Godfather III where Michael complains that just when he thought he was out, they pull him back in."
INDUSTRY STATISTICS
---
US Mattress Imports – Yr./Yr. & Mo/Mo.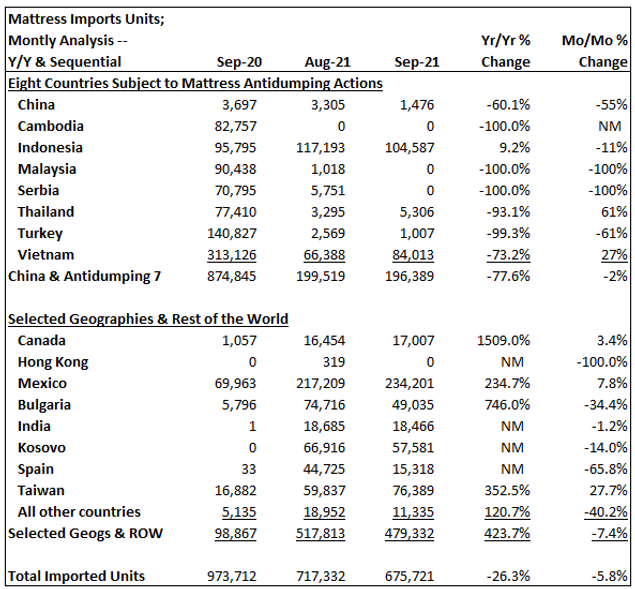 Source: USITC dataweb; Water Tower Research
Note: 2020 data, as restated on USITC dataweb
This note addresses the September 2021 import data reported on the Department of Commerce, US International Trade Commission dataweb site, https://dataweb.usitc.gov. We track that data for three specific Harmonized Tariff System ten-digit codes (HTS-10) that we believe define adult mattresses. Barring atypical calendar issues, this data is reported ~70 days after the month-end of the month being reported. In addition, we maintain an Excel database that tracks the imports of the referenced 10-digit codes since 2016, when the data for these codes began being reported.
DISCLOSURES
Water Tower Research ("WTR") is a professional publisher of investment research reports on public companies and, to a lesser extent, private firms ("the Companies"). WTR provides investor-focused content and digital distribution strategies designed to help companies communicate with investors.

WTR is not a registered investment adviser or a broker/dealer nor does WTR provide investment banking services. WTR operates as an exempt investment adviser under the so called "publishers' exemption" from the definition of investment adviser under Section 202(a)(11) of the Investment Advisers Act of 1940. WTR does not provide investment ratings / recommendations or price targets on the companies it reports on. Readers are advised that the research reports are published and provided solely for informational purposes and should not be construed as an offer to sell or the solicitation of an offer to buy securities or the rendering of investment advice. The information p...